Owning a trade mark can bring numerous benefits to your business. Once you own a trade mark you can use it, sell it or license it. In order to keep a fair, competitive marketplace, once your mark is registered you must continue to use it, otherwise you run the risk of having it revoked on the basis of non-use.
Our guide our trade mark solicitors will explain why you need to use your mark, what should you do if you receive a trade mark revocation action for non-use, and what to do if you want to revoke a trade mark registration.
Why it is important to use your trade mark?
In the UK and EU, your trade mark may be revoked if it has not been used during the 5-year period following the entry onto the trade marks register. Similar situations exist for other international trade mark systems but the time periods may differ. Your trade mark may be liable for revocation if, within a continuous period of five years, it has not been put to genuine use:
within the designated territories in which it is registered;
in connection with the goods and services in respect of which it is registered; and
there are no proper reasons for non-use.
It is important to use your trade mark correctly, as failure to do so may result in legal difficulties. For example, if a potential third party would use a similar mark to yours, and you tried to stop them from infringing your rights, it would be more difficult to take action. Similarly, it would be difficult to oppose new trade mark applications that are similar to yours. When making such claims, usually the other side will ask for evidence of use. If you do not provide sufficient evidence, it is unlikely your claim will be successful, and you may even leave yourself open to a counter claim.
What should I do if I receive a trademark revocation action for non-use?
If your mark is not used for a period of five years, it becomes vulnerable to attacks from potential third parties that may want to use the mark for themselves. If you have used your trade mark then you need to provide evidence of it.
When assessing what represents 'genuine use' of a trade mark, the Court of Justice of the European Union set out some guidelines in the landmark case Ansul BV v Ajax Brandebeveiliging BV, C-40/01.
In the Ansul case, the mark 'MINIMAX' was registered for fire extinguishers and associated products, however, the owner of the mark had stopped producing and selling fire extinguishers. Ansul only continued to supply components and maintenance services to their customers who had already purchased MINIMAX extinguishers. The Court of Justice of European Union concluded that a mark's use is genuine if it is being used by the proprietor of the mark or an authorized third party. They also stated that the use must be more than merely 'token', which, in this context, means that it must not serve solely to preserve the rights conferred by the registration.
The use must be consistent with the essential function of a trade mark, which is to guarantee the identity of the origin of the goods or services. In addition, the use must be by way of real commercial exploitation of the mark on the market for the relevant goods or services, viewed in relation to the relevant economic sector, the nature of the goods and services at issue, the characteristics of the market concerned, and the scale and frequency of use. It is not necessary for the use of the mark to be quantitatively significant, as there is no de minimis rule.
Please note that your trade mark may not be revoked if, during the interval between expiry of the five-year period and filing of the application for revocation, genuine use of the trade mark has been started or resumed.
If you happen to receive a trade mark revocation action it is important to contact a trade mark attorney to seek professional advice. At Harper James, our trade mark solicitors can advise you how to proceed, what evidence should be presented and how to respond to the revocation action so you can keep your trade mark.
Proper reasons for 'non-use'
If you have not used your mark due to circumstances that are out of your control, it is possible to avoid cancellation. Proper reasons for non-use have to be significant and usually are related to import and export restrictions, national marketing limitations, extreme illness and acts, or events or circumstances beyond the control of the trade mark owner, such as natural disasters or war.
If you believe you can provide evidence that you could not use your mark due to extreme complications, or that you tried to overcome such complications but were unable to, you can file a witness statement in which you have to give details of why you have not been able to use the mark. However, the cases where you can demonstrate proper reasons for non-use are rare.
Please note that proper reasons are found only if you can provide evidence that in the absence of extreme circumstances, there would have been a genuine use of your trade mark in the 5- year applicable period.
How do I prove that I have used my trade mark?
If you face an attack on the basis of non-use, you need to show evidence of genuine use. That means you need to prove you have used your trade mark in relation to the goods and services it was registered for in the 5-year period.
Showing 'use' of your mark can be as simple as demonstrating sales of products with the trade mark or advertisement of your products. As soon as your trade mark is registered it is important to keep a record of invoices, product packaging, advertising collateral and sales records, as this is considered proof of using your mark.
Evidence is usually submitted in a witness statement form. This is a legal document that states the information you provided is correct as far as you are aware. If do not want to file an evidence form, but you want to challenge the validity of the attack, you can submit a written statement as a form letter that has to contain copies of your evidence.
Use in a different form to that in which it was registered
If you have used your mark in a different way to that in which it was registered, you may be able to still prove genuine use if your mark was used in a modified form, or if your mark is part of a composite mark or a group of marks. As long as the distinctive character of your mark is not modified, your mark could still be perceived as the mark registered even if you used your mark in an altered form.
Use that may not count
It is important to note that determining the correct use of a trade market is done in relation to the goods and services it seeks registration for. If you registered your mark for a specific class of goods and services, but you are using only some, or similar, goods and services, then your mark may be revoked.
How do I revoke a trade mark registration for non-use?
A trade mark is valuable right to hold, and if renewed correctly it can last indefinitely. In order to avoid unfair monopoly on the market, trade marks have to be used in a period of 5 years since registration.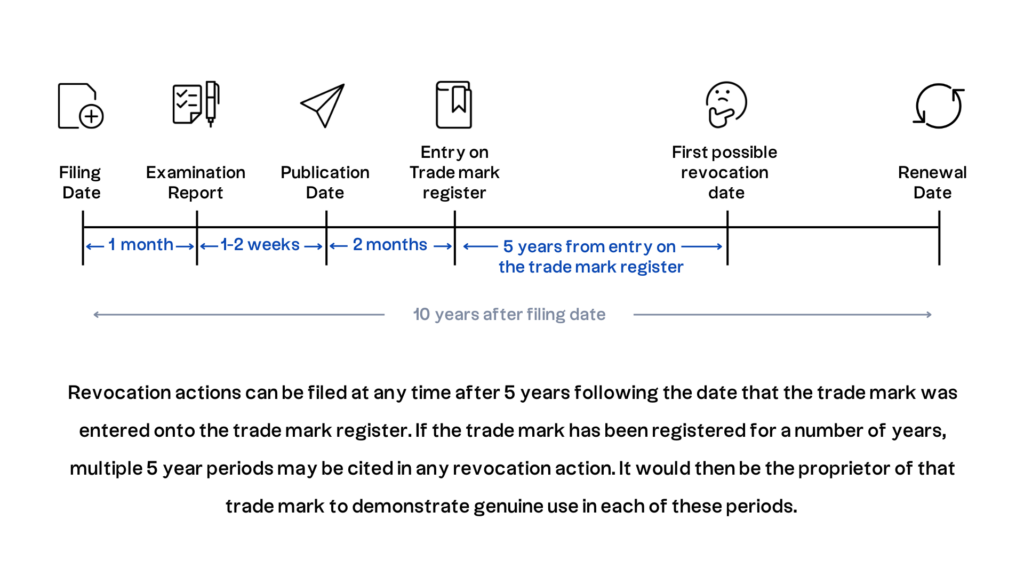 If you like a mark that resonates with your brand or business, which has been registered but has not been used, our team of trade mark solicitors can check the trade mark register for you. We can liaise with the trade mark owner of the earlier mark and see if you can reach a mutually beneficial agreement. If that is unsuccessful, we can submit form TM26 for non-use in the UK and file a cancellation application for EU trade marks on EUIPO's website. The earlier trade mark owner then has to provide evidence of use, and if they fail the mark in question is revoked and free to be used by anyone.
Summary
Making sure you are using your trade mark, and using it correctly, can be crucial for your business. If your mark is cancelled on the basis of non-use you will face unnecessary costs. Trade mark management is very important to ensure your rights are protected.
Our team of trade mark attorneys can help you manage your trade mark after registration. We can advise in any issues regarding 'non-use' from answering to revocation actions to providing correct evidence of use to helping you revoke a trade mark.
Owning a trade mark is great, but remember to use it!