World leaders have converged on Cornwall this weekend for the G7 summit and high on the agenda will be climate change and the green revolution. As the UK looks to bounce back from Covid-19, there is no doubt businesses who specialise in sustainable and environmentally friendly products will help provide the green shoots of economic recovery.
Ministers predict that over the next 30 years green and eco-friendly businesses will make up 13% of our total GDP - compared to just 2% now. This is based on projections which show consumers are increasingly wanting to shop in a more eco-friendly way. The government has already set ambitious targets and last year chancellor Rishi Sunak announced a £3bn package of measures which aims to create thousands of 'green jobs'.
In this special G7-inspired feature, we talk to four of our green start-up clients about their business journeys, how we've helped them along the way and what they'd like to see politicians like those at G7 leaders' deliver on.
Electric growth for Petalite
Tech Nation Net Zero company and 2021 Innovation awards winner Petalite have spent the past five years developing a new generation of electric vehicle charging technology. They've designed an innovative way to convert AC-DC which means the company will have the technology to create superchargers that will last for 15-20 years.
Petalite's CEO Leigh Purnell says: 'We are aiming to become one of the world's main suppliers of EV charging equipment and aspire to becoming a billion-dollar company. Now that we have validated most of our technology, we are working with partners to secure large scale agreements, which will then lead on to a major investment round this year. I firmly believe the UK is best for inventive and advanced technology: we used to be at the forefront of wind, hydro, wave and nuclear power. We need to bring that back into the UK and hold on to it. New technology will pay a huge part too. As we are a nation of smart minds, we cannot compete on manufacturing might alone, so we need to focus on tapping into the potential of the UK technology and innovation sector, promoting and financing it.'
'If I could send one message to the G7 leaders, I would pitch the challenges of the global electric industry on this huge shift to electrification, but I would also really emphasise that more resources need to be committed to all avenues of de-carbonisation. From renewables, such as solar and wind, to both nuclear avenues with fission and fusion. As for vehicle electrification, we need to move away from fossil-based derivatives and dead ends in the mass vehicle market to hydrogen and bio-fuels. There also should be national government competitions being set up (like the XPRIZE competitions) to drive vast sums of money towards these new technologies.'
Leigh adds: 'With Harper James, I have a varied and vast resource of legal experience to pick from without the expensive retainer that I would only get from a large legal firm. I can ask a variety of questions: from HR, to patent law, or investment, and they have always been able to put me in front of the right lawyer in a very short period of time.'
Xeroe: delivery without emissions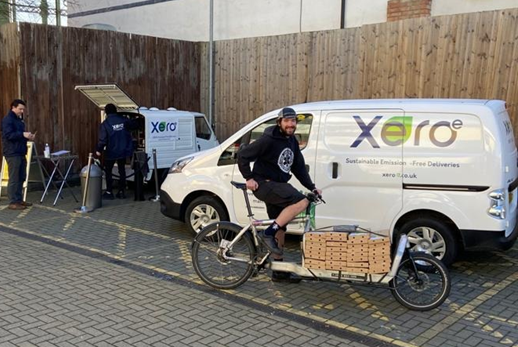 Start-up XeroE offers deliveries with a difference. Through a fleet of bicycles, cargo bikes, electric mopeds and vans, the distribution specialists are at the forefront of providing sustainable, 100% emission-free deliveries across the UK.
In the past 15 months, when city centre B2B demand collapsed, Xeroe pivoted to direct customer deliveries. Fuelled by a lockdown which closed many retailers, they then trebled their number of deliveries in six months. Although London-based, Xeroe opened in Bristol in April and will expand to three other cities later this year.
Commenting on their success, founder Steve Evans said: 'My advice to anyone entering the sector is to aim to start quickly. Don't wait until everything is perfect. There is no doubt the market we are in is growing very quickly. This is because consumers, investors and staff all want to buy from, invest in and work for sustainably-minded companies.'
Harper James Solicitors has supported Xeroe to introduce an Enterprise Management Incentive (EMI) that rewards staff who help contribute to the firm's green-success. Steve explained: 'The scheme Harper James helped set up enabled us to tie important team members into a three-year commitment to the company's plans for growth. Since there is a direct link between the number of deliveries we make and the amount of carbon and other greenhouse gases we save, then the growth targets are also green targets.'
Like many business owners, Steve will be keeping a close eye on the outcome of the G7 talks in Cornwall. There are many areas he believes the government can provide further support in: 'I'd like to see ministers commit to creating a vehicle charging infrastructure. It is way behind demand right now and will slow the uptake of electric vehicles. Ministers could also do more to help councils face down local opposition to implementing clean air zones by making them a mandatory legal requirement. All the political leaders at G7 will have ordered something online. My message to them is if they were presented with an option to pay a little more for an emission-free delivery, then they should take it and encourage and reward others who do the same.'
Neutrino Global: greener live events
Trying to sustain an events business in the midst of a global pandemic is hard enough. Live event innovators Neutrino Global have achieved this while also remaining true to a commitment to run an eco-friendly enterprise. They have developed a unique widescreen eco-projection frame system for live indoor events, which is an industry first. They also source services locally and run a completely paper-free business. Co-founder Adam Taylor said: 'For us being eco-friendly and competitive is the key. And you can do both.'
Adam says the timing of the G7 summit comes at a time when businesses are thinking about sustainability more than ever: 'Start-ups just want political leaders to deliver policies that match their own commitment to being eco-friendly. Businesses are making more and more informed decisions now around their supplier network. And consumers care about their own impact on the environment. New tech will also play a fundamental part. Events, the space we exist in, will always creatively make use of the latest and greatest trends in technology.'
Adam tells us that one of the things that attracted Neutrino to Harper James was our own remote-operating model, which matches their way of working. 'We don't have an office and operate paperless,' he explained. 'We've always dealt with legal documents entirely digitally, which is in line with our paperless credentials. And we've never met any of the Harper James team face-to-face. Everything has been done over virtual meeting software packages like Zoom or Teams. As a result, Harper James operates in a way that's fully in keeping with our core environmental values.'
Twipes: award-winning biodegradable wipes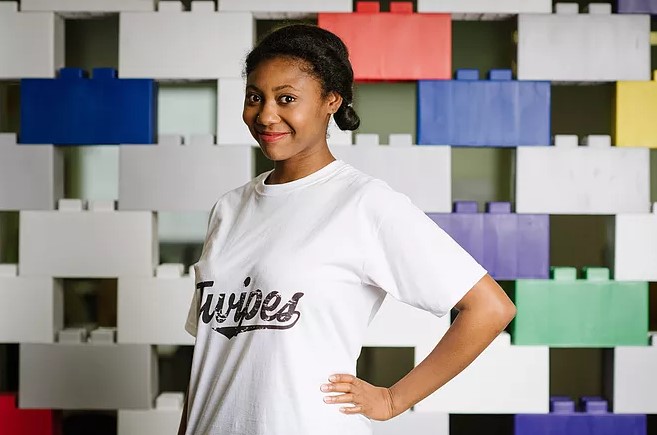 Twipes, who make flushable and biodegradable wet wipes, put sustainability and the environment at the heart of their business. With the UK using billions of wet wipes a year, Twipes have created a product which reduces the harm that standard wipes can cause.
The pandemic created huge challenges for the start-up. The firm's overseas supplier had to close down but, on the plus side, it led to Twipes finding a UK supplier, further helping reduce the company's carbon footprint.
They have also partnered with a group called We Do Ethical and plant a tree for every five packs of wipes they sell, to help offset their CO2 footprint. Twipes also made their manufacturing process less carbon-heavy by onshoring and supporting a local manufacturer.
Elizabeth Kotoulis, head of product at Twipes, said: 'In the next three years we're hoping to expand our line of products, making specialised wipes, including antiviral and body wipes. We're aiming to go into R&D to develop more single-use sanitary products from our dispersion technology, potentially in nappies and feminine hygiene products. If I could offer any advice to businesses working in this sector, it is that there will always be pitfalls and risks that don't pan out. You have got to keep on pushing through.'
'I think green businesses will provide the key to the recovery of the economy post-Covid. The pandemic created a need for mass amounts of plastic PPE and set back so much progress on reducing plastic usage. Green businesses are critical to answering the planet's cry for help at a time when we're worse off than ever before in terms of plastic pollution. Renewable green alternatives to single-use options are definitely growing the fastest – things like compostable cutlery or reusable bags, these are becoming the standard in many cities. The days of single use plastic isn't quite done with, with the pandemic and PPE still being prevalent. We believe there will be a shift in the industry calling for reusable or recyclable products and a hard push for biodegradable offerings.'
Elizabeth, who will be monitoring the outcome of the G7 summit, is supportive of steps the government is taking: 'The UK government is considering banning plastic and non-flushable wet wipes, and more stringent rules are being put in place for labelling them as such, so we can see positive movement toward products like ours. We need innovative ideas to upset the status quo and find solutions to the outdated products and practices we've been forced to accept.'
Twipes co-founder Elle McIntosh, a 2020 Forbes 30 Under 30 winner, added: 'We worked with Rob Cobley and the intellectual property team to get an IP audit performed and to solidify our intellectual property as much as possible. Meeting with our solicitor and discussing our needs really helped me to open our eyes as to everything and expand our horizons when thinking about the company, its IP and our future. Harper James Solicitors have helped us to ensure we practice what we preach in the delivery of an eco-friendly product.'
Are you looking to operate more sustainably? Do your ESG credentials need an overhaul as you grow? Our experts can advise you on the best legal course of action for making your business greener.