Our 'meet the client' series gives insight to the stories behind the organisations we support with legal services. Recently, we caught up with Aela Callan, co-founder of Head Set Immersive. She shares the remarkable story of how a traumatic event during the Arab Spring led her and co-founder Kate Parkinson to build a virtual world that better equips people working in hostile environments.
Name and job title?
'I'm Aela Callan, co-founder of Head Set Immersive.'
What does your business do and what inspired the start of your business?
'My co-founder, Kate and I joke that we're 'recovering' journalists. We both worked on the frontlines of political conflicts, protests, and natural disasters for the best part of 30 years collectively. After seeing firsthand how being in these situations can affect journalists and other frontline workers, we wanted to find a way to better prepare our colleagues for what they may face when they go into high-risk situations.'
'The concept for Head Set Immersive was born out of a terrible situation that Kate experienced in 2011 during the Arab Spring – while filming, her cameraman Olivier was hit by a rocket propelled grenade. Thankfully, he survived and they went on to get married, but in that moment, she couldn't remember any of her medical or safety training, for which she really blamed herself. Fast forward a few years later, I was introduced to virtual reality as a storytelling medium, but Kate and I discovered that it was great at evoking fight/flight reactions. We put these two aspects together and decided to use VR to empower people working in hostile environments to become more self-aware of their reactions and practice their responses in a safe space.'
'Our product is called SMART which stands for safety, medical and resilience training; we have a range of online and in-person solutions that can help companies de-risk their employees.'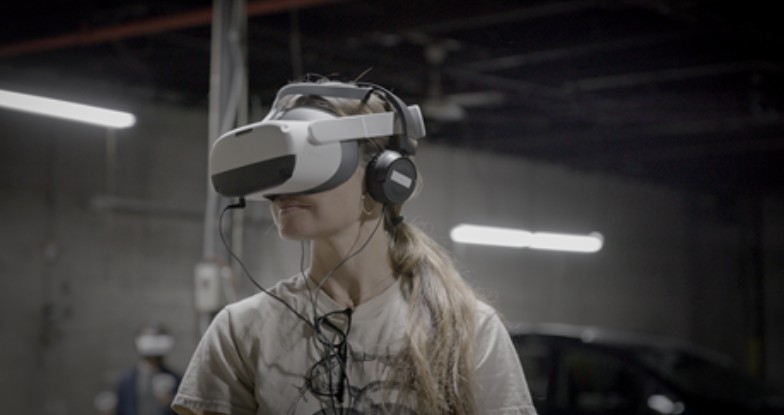 As a co-founder, what have been your greatest challenges?
'We're first-time founders, so almost every element of the journey has been a challenge. Everything from understanding the foundational processes to allow us to scale, through to learning how to fundraise. Growing a business mindset has been a steep learning curve and that's where working with Harper James has been really valuable. We needed experienced advisors to consider things we otherwise wouldn't have initially thought about in relation to employment policies, risk and compliance, a host of other things.'
What has your experience been working with Harper James?
'During the infancy of our business, we had a painful experience with a subcontractor due to some legal complications. We needed help and found Harper James — that was over two years ago and now, Harper James are our go-to firm for all our legal needs. The team have been extremely helpful and have supported us in creating a strong legal base to operate as a business.' said Aela.
'In the beginning we previously had to outsource some parts of software development, so ensuring our IP was protected was a must. Our technology is quite new to a lot of businesses, so we've had to ensure policies that protect privacy and reflect our values around data collection. This also helps put us in a strong place when securing investment. We've used Harper James' cap table management product so we can model different outcomes and plan our company's share structure. And most importantly, they've helped us navigate strategic partnerships with bigger organisations to make sure that we are protected as a smaller entity.'
What do the next 12 months look like for your business?
'The next 12 months for us are really about getting a foothold in the corporate sector. There's a lot of compliance training that Head Set can really supercharge with its narrative based training tools that blend real and virtual spaces.'