Angel investors are a valuable source of finance and expert advice for small and growing businesses. And because angels are often prepared to back riskier propositions than traditional sources of funding, they can be an ideal partner for innovative companies developing new market propositions.
Angels are typically individuals with spare capital who are prepared to take risks with their money in return for the potential of higher returns. They can offer a more personal partnership than, say, a venture capital company, crowdfunder, or a bank, bringing their previous business experience to the party. Plus, it's usually a simpler process onboarding an angel investor than more formal funders.
So, what do angel investors look for when investing in entrepreneurs and how can you attract one to your business?
The fundamentals of angel investing
A typical angel investor is a successful entrepreneur with cash to spare who wants to help up-and-coming businesses scale and grow. Because their attitude to risk tends to be more flexible than traditional investors, they can be an attractive source of finance for new start-ups operating in uncharted territory. According to this 2020 report co-authored by the UK Business Angels Association (BBA) and the British Business bank (BBB), the vast bulk of angel investment is in start-up, seed and early-stage businesses, as this chart demonstrates:

Angel investors either operate alone or as part of a syndicate. They may have many millions of pounds to invest – like the UK's most famous angel investor, Alan Sugar – or perhaps just a few thousands.
Either way, they are looking for ambitious entrepreneurs who want to grow quickly. They understand that the prospect of making a fortune is always balanced by the possibility that they'll lose their money, so they'll always choose investments carefully.
The good news is there are a lot of business angels out there. Statistics on the market are hard to come by, mainly because many investors work privately, but analysis of the Enterprise Incentive Scheme (EIS) and Seed Enterprise Incentive Scheme (SEIS) data gives an idea of the size of the angel investment market. Despite the after-effects of the COVID-19 pandemic, the angel investment scene remains active, and they estimate that the total investment annually by angels is more than £2 billion.
One important feature of angel investment is that funders can offer advice and assistance as well as finance to growing businesses. Here are the types of advice angels typically offer their protegés: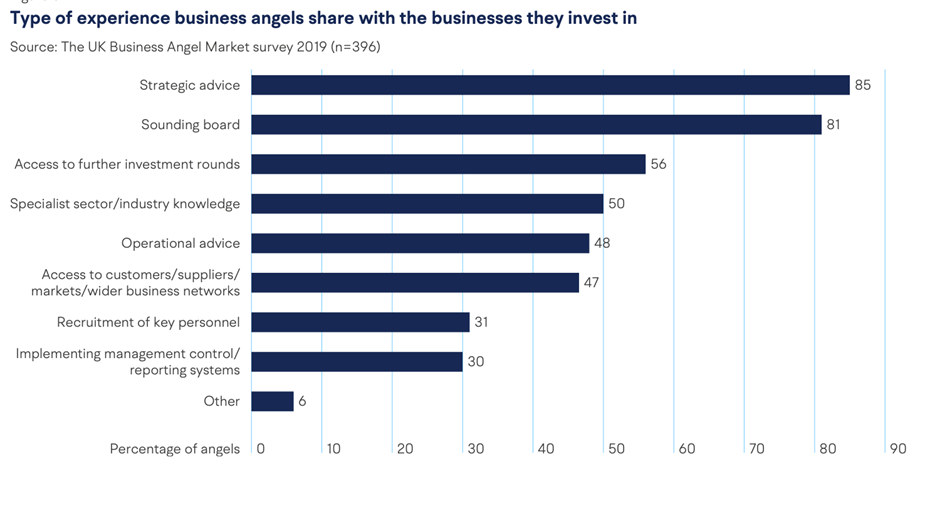 Pros and cons of angel investment
For small businesses that may not be able to qualify for a bank loan or similar, formal, investment, angel investors are a viable alternative. Here are the pros of angel investment:
They positively love start-ups. What attracts angel investors is the potential for growth, beyond what they could otherwise achieve in traditional investing
They are principally interested in a particular industry, no matter where that business is located. You don't have to be close to a major city to attract finance
Paperwork isn't so much of a problem. Qualifying and obtaining finance is a relatively simple affair, and there can be more give and take when negotiating terms
Because you're not borrowing money but trading cash for equity, you won't need to make regular repayments. This can be very helpful at the start of your business when cash flow is tight
Your angel may not just provide you with finance, they can also give you advice and support, including the potential to network with their existing contacts in the industry and help you find future funders
Because angels get repaid when they exit the business, their goal is to help you grow as quickly as possible to reach that milestone
Angel investing does have some downsides, however. Here are a few:
Because angel investors tend to be private individuals, they don't normally advertise, and rely on their network to find businesses in which to invest. You'll have to put time and effort into networking to find a suitable angel
Angel investing is less structured and formal than, for example, venture capital finance. It's important to have a legal team on your side so that you're sure of the terms of the deal, and that these are properly reflected in the paperwork
If you choose an angel investor, you'll have to give away equity in return for funding
Angels will expect your company to grow quickly and can put pressure on you to achieve results, fast
While some angels are prepared to give advice and support to your business, this isn't guaranteed. Alternatively, an angel might want more control over the way you handle your business than you're comfortable with
What do angel investors look for?
One question is permanently lodged in the minds of angel investors: will I see my money again? From this single query springs dozens of smaller ones, from the makeup of your team, to the speed of business growth.
Only by answering all their questions convincingly will business owners persuade investors to open their wallets.
The team
Perhaps surprisingly, the first factor most angel investors assess is the leadership team. They want to know who is driving the enterprise forward and will inspect evidence that they are competent and trustworthy.
Be prepared to answer questions such as: what skills do team members offer? Does your business have people with relevant experience and a track record of success in the market? Are they honest and do they appreciate the downsides of their proposition?
On a more mundane level, they also want to know that you are approachable, communicative, and easy to work with. Your character is therefore an essential piece of the puzzle.
Your angel may want to appoint a board member, so you may lose a degree of control over the business. On the other hand, you'll have the benefit of that person's experience.
Financials
At its heart, investment is a numbers game. Your business must provide evidence that metrics such as revenue, profits, audience, or market reach (or all of these) are heading in the right direction.
Businesses that already have a track record have a better chance of investment, since past performance is such a useful indicator of future success. Those who are prepared to back embryonic enterprises generally ask for a bigger equity slice to balance the risk. So, it's in your interest to develop a positive track record reflected in some nice upward graphs.
If your business is pre-revenue then you must provide proof of demand via subscribers, clicks, or some other audience metric. Today, data is the world's most valuable commodity, so a rich database could entice investors even if it is yet to be monetised.
The product or service
It might seem odd, but the actual product or service is not always a high priority for business angels seeking investment opportunities. It's true that many focus on specific sectors – usually ones of which they have experience – but they tend to be more interested in success metrics than what your widget does.
That said, it's usually important for investors to understand the product or service and how it benefits customers, so be prepared to justify its existence. A honed elevator pitch is a must: you wouldn't buy a book with a vague synopsis on the cover, the same applies to buying businesses.
Market conditions
The market is another essential consideration for any serious investor. It is composed of three main elements: potential customers, business rivals and the environment in which they operate.
Markets can ebb and flow quickly. For example, the coronavirus pandemic sent many markets into a tailspin, most notably aviation, hospitality, and commercial office space, but communications software, food and online retail experienced a boom.
Angel investors are always looking for markets on the up, but they also crave stability and consistency. So, it's important to demonstrate that the landscape you operate in has a bright future regardless of what the world throws at it.
The business narrative
Numbers ultimately win minds, but even the hardest business angels are interested in the human side of their business portfolios. In short, a good story goes a long way.
Investors are interested in your business' back story and any interesting anecdotes or quirks that explain why it exists. It might be a remarkable coincidence, or a hobby that developed into something more. You might have met your business partner in unusual circumstances or perhaps the product evolved from something completely different from what you were originally working on.
These details matter because they help build a clear picture of your business beyond just the raw product details and financial information. A good story adds colour and keeps people engaged.
Exit strategy
Your exit strategy must be clear, detailed and realistic. Anyone who watches Dragons' Den will know that you must justify a guarantee that you'll quadruple revenue and secure a buyer in three years. Back claims with evidence or risk being overlooked.
It's good to be ambitious, but remember that most business angels have long CVs and are experts at identifying wishful thinking. Far better to give modest projections and then explain how the business can go further, than to exaggerate.
The pitch
Not every investment is won after a tense presentation – some evolve over time or happen as part of an existing partnership, but in many cases winning or losing support hinges on a snappy pitch.
Here are a few essential rules of pitching:
Dress appropriately.
Keep your presentation short and invite questions
Create a slide deck that enhances what you're saying without distracting from it
Include co-founders and key members of the leadership team to pitch alongside you
Be confident and respectful
Practice, practice, practice until your pitch is perfect
Next steps
Securing business angel funding is a two-way street. If your business is valuable, then ensure you get a good deal from someone you can work with. Take your time to research the angel economy, investigate associations and investor groups and network extensively.
Consider a potential investor's track record and speak to business owners they've backed in the past. Are they reputable, do they offer more than money, and will you still be friends in a year's time?
Lastly, when you agree a deal, it's vitally important to go through the proper legal channels. Employ a corporate solicitor, check the small print and only complete the deal when you're comfortable with the terms and conditions of the agreement.
In an ideal scenario, business owners and their investors should be a team that works together towards mutual objectives. But sometimes relationships break down, so you should be prepared for the worst-case scenario, even as you aim for your perfect exit.
For more advice on angel investing, tax-efficient schemes and corporate finance in general, consult our corporate solicitors. Get in touch on 0800 689 1700, email us at enquiries@harperjames.co.uk, or fill out the short form below with your enquiry.