Registering a design is the most efficient way to protect the appearance of your products. Registration is cheap compared to other registered IP rights. It gives you monopoly protection, so you can enforce your registered design without having to prove that the infringer copied anything.
A well put-together registration and a competently-pleaded claim will enable you to protect the appearance of your products against both knock-offs and inadvertent look-alikes – and of course, our registered design solicitors can make sure that you maximise your chances of success by optimising the application and ensuring your case is as strong as possible.
How are registered designs protected in the UK?
Designs may be protected in the UK by registration if they are novel and have individual character. There are a number of exclusions from protection, including exclusions of design features in respect of which there is no design freedom – in particular, the must-fit and must-match exclusions which are important for replacement parts. There is no requirement for the design to have any eye-appeal.
Even if the design is novel, there is the second question of whether it has individual character. This is judged by whether it makes a different overall impression on the informed user than the impression made by any existing design.
The requirement for individual character is closely related to the concept of design freedom. The more freedom the designer has, the more different the design will generally have to be in order to make a different impression on the informed user; while less freedom (perhaps because of technical constraints) means that smaller differences will make the necessary impression.
Who can make a registered design infringement claim?
It is the registered owner of the design who is entitled to take action for infringement. As the proprietor of the registered design, you have the exclusive right to use the design, and that right is infringed if someone uses the design without your permission. Using a design is a broad concept, of course, and includes (but is not limited to) making, offering, putting on the market, importing, exporting or using a product in which the design is incorporated or to which it is applied; or stocking such a product for those purposes.
An exclusive licensee of a registered design is also permitted to sue to enforce it – necessary protection for someone whose business relies on IP rights in case the proprietor fails to take action.
Importantly, because IP rights always need to have edges to ensure that a small difference or two doesn't allow an infringer to get away with it, your exclusive rights also extend to designs that do not produce a different overall impression on the informed user. There are always likely to be some differences, and of course the defendant will emphasise them in their defence, so this 'different overall impression' test is likely to be a big issue in infringement proceedings.
How to make a registered design infringement claim
The essentials of a registered design infringement case were formulated by Jacob LJ in Procter & Gamble Co v Reckitt Benckiser (UK) Ltd [2008] FSR 8, para 3:
'The most important things in a case about registered designs are:
(1) the registered design;
(2) the accused object; and
(3) the prior art.
And the most important thing about each of these is what they look like.'
Later (at para 27 in the same judgment) he said that 'the point of protecting a design is to protect that design as a design. So what matters is the overall impression created by it: will the user buy it, consider it or appreciate it for its individual design?'
These are the matters that you will have to address if you have to sue for infringement of your registered design. What practical steps do they entail?
Before the claim
Collect evidence. You need to show the judge what Jacob LJ called 'the accused object', which probably means simply going out and buying one – or having an investigator do so. There has to be evidence linking it back to the defendant, and this is where the experience of an investigator might be helpful. But there will be no need to show a nexus between your design and the defendant's product – copying is not a necessary part of the equation.
Seek legal advice from a registered design solicitor about the likelihood of you making a successful claim. As this note shows, there are numerous pitfalls that you need to avoid. Before you commit to taking action, make sure your registration supports your claim – look at the section below on what comparisons the court will make. Your claim may have to be adjusted to fit the extent of your exclusive rights.
Make a decision to proceed or not based on strategic legal advice from an experienced registered design specialist. You and your advisor must work together to get answers to the following questions:

Can you afford to act? How does the anticipated monthly cost of running litigation compare with your available cash?

Can you afford not to act? What would the consequences be if you did nothing?

Do the risks (of losing, of the crystallised risk of legal spend) outweigh what you can expect to safeguard or to gain if you are successful?
Making a claim
We will start by writing to the suspected infringer. A letter of claim should comply with the requirements of the Code of Practice on Pre-Action Conduct in Intellectual Property Disputes which is designed to ensure that the defendant is informed from the start about the claim they will have to answer. Failure to get this right could be penalised by the judge when it comes to awarding costs.
In some situations, it is necessary to sue without sending a letter of claim first. It might be that an injunction is needed so urgently that you have to go before a judge before you can comply with the usual niceties, or that you fear the loss of important evidence if the defendant is given notice.
It's important to avoid making any groundless threats at this stage, otherwise you may end up in court on the receiving end of a claim rather than being in the driving seat with a claim you started, and your lawyer's experience will be important here.
If the defendant ignores your correspondence, or does not respond positively, we can start legal proceedings. An action for infringement of a registered design could be brought in the High Court or if the value of the claim is relatively low in the Intellectual Property Enterprise Court. In the High Court, it may be that the Shorter Trials Scheme will make the cost and duration of the litigation more bearable. Choosing the appropriate forum is an important strategic matter.
What gets compared in a registered design infringement case?
The defendant will have infringed your registered design if they have used your design or a similar one. Sounds easy? It is, up to a point, but remember that as far as the judge is concerned your design is what appears on the register – the representation of your design, not what you are actually making or selling, or even what your blueprints or CAD CAM data show. If your registration is short on detailed features, you might be in difficulty. It might mean that the details of the defendant's article enable it to produce a different overall impression compared with your registered design, notwithstanding that it actually looks very similar to your actual product.
To understand what this means in practice, we have to consider a decision of the Supreme Court in the Trunki case (PMS International Group Plc v Magmatic Ltd [2016] UKSC 12 (9 March 2016). Magmatic had registered six monochrome CAD images, with grey-scale shading and distinct tonal contrasts but little detail and no indication of the actual colour (See below).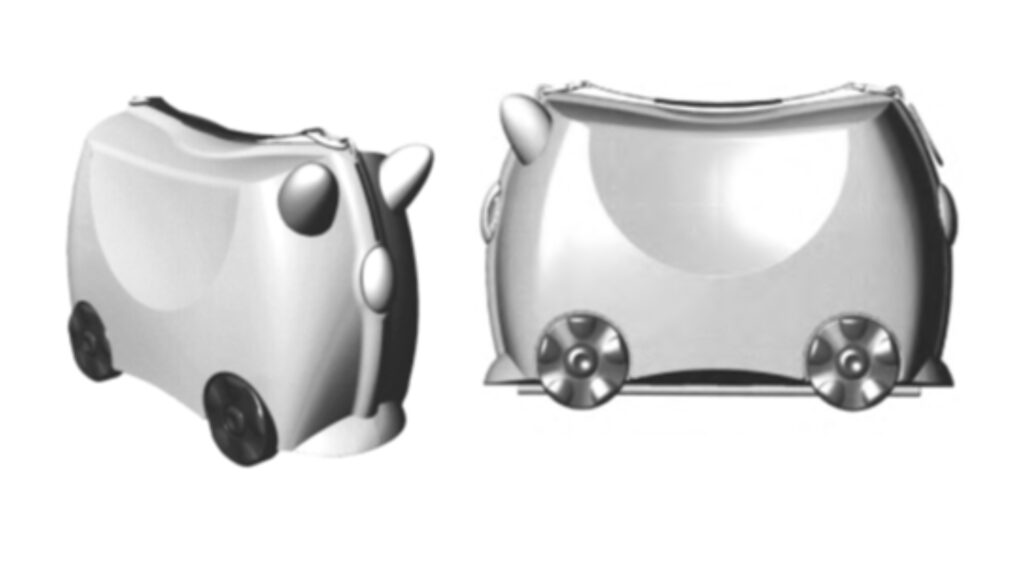 Their later registrations included colours and markings, but it was the earlier registrations that were in issue in the case, and the Supreme Court decided that the defendants' cases did not use the (non-detailed) designs. The Court of Appeal had therefore been right to conclude that the overall impression produced by the two designs was very different, so there was no infringement.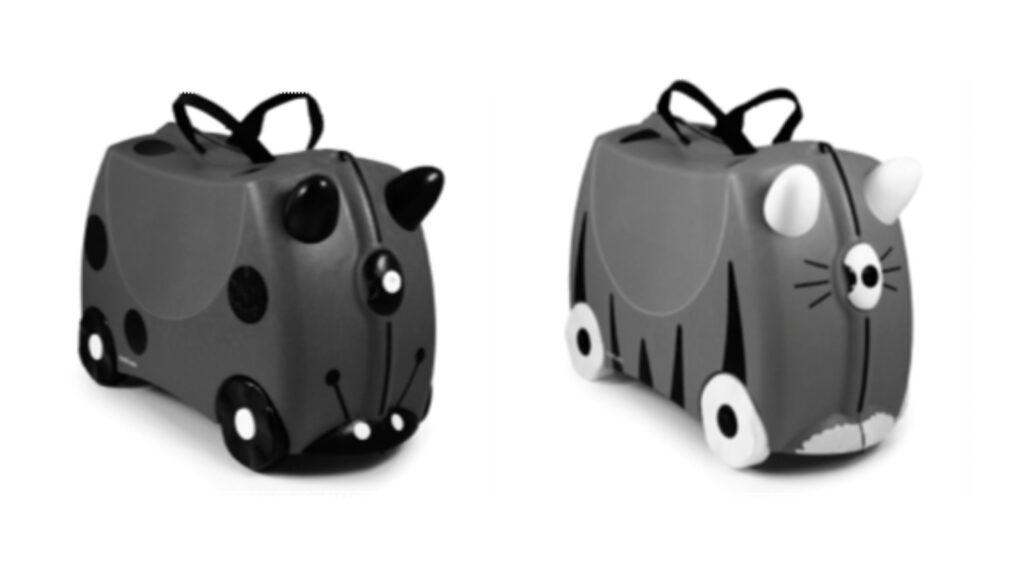 In which jurisdiction did the infringement take place?
Like other IP rights, registered designs are territorial. You can only sue for infringement if someone has used your UK registered design in the UK. That does not necessarily mean that they have made products here: they might have imported them from anywhere. It's usually more effective to go after the manufacturer than an importer, but this might be impracticable and you would need a large portfolio of design registrations to be able sue in every country where people might be making knock-off copies.
You might also have registered design protection in the EU, especially if you registered a Community design while the UK was still an EU Member State. Registered design law was harmonised throughout the EU and a unitary piece of intellectual property, the Community design (which has both registered and unregistered variants), was created and many UK business applied for registered Community designs. If you have a registered Community design you might be able to use it to address the same infringement in other European countries.
Where is the burden of proof in a registered design infringement case?
You will have to convince the judge that an infringement has taken place, and if you can't do so the defendant will not be liable. You must start by showing that you own a registered design, which is not difficult given that it is registered, and then that the defendant's product uses your design. It may well be necessary to have expert evidence on this point.
The defendant is likely to counterclaim for invalidity as well as filing a defence – in other words, not just say that they didn't do it, but that actually there should be nothing there for them to infringe in the first place. The burden of proving that your registration is invalid is on the defendant, who will have to show that your design was not novel, or that it lacked individual character, or that it (or relevant elements of it) were excluded from protection.
The law also provides the defendant with some statutory defences, which will be important in specific situations: private non-commercial or experimental use, or use for teaching, are the main ones but they are not often likely to help very much.
Other possible claims
In the real world, facts that give rise to one sort of IP claim often support claims in other areas too. This is especially true in the world of design protection. In addition to a registered design infringement, you might be able to claim for infringement of a design right (the copyright-like automatic right given in the UK to certain creators of original designs), or continuing unregistered design right (derived from an earlier, pre-Brexit unregistered Community design) or supplementary unregistered design right (the successor to unregistered Community design protection following Brexit). And in some, albeit rather unusual, cases there may be copyright protection to consider too. As you can imagine, finding your way through the nuances of UK design law definitely requires the services of an experienced registered design lawyer.
Remedies
In a registered design infringement action, the usual remedies that are available in an IP case may be awarded.
Damages or an account of profits. The former is intended to compensate you, putting you as far as possible into the position you would have been in had there been no infringement. This may be a reasonable royalty, especially if you were prepared to grant a licence in the first place. The latter enables you to find out how much profit the defendant has made from the infringement, and hands it over to you.
Injunction. A final injunction to prevent a reoccurrence of the infringement is usually the most important remedy a rights holder wants (although financial compensation might appear more desirable). It is sometimes possible to secure an interim injunction to stop the alleged infringement pending trial, but these are much less common than they were in the past.
An order for delivery up or destruction of infringing articles.
Dissemination and publication of the judgment. This can be particularly embarrassing for the defendant.
Summary
Registered designs give what looks like strong protection, cheaply. But enforcing your rights isn't as straightforward as you might expect, and there are enough pitfalls to make this an area that calls for expert guidance. If you have a registered design and you wish to sue someone for infringing it, our experienced registered design lawyers can guide you through the process.