Our corporate solicitors advise many businesses on a range of employee share schemes (ESS), with the most common being EMI share option schemes. However, that's not the only route for your company. Here we explain more about the variety of ESS and how they work for both the employer and the employee. We also look at how Covid-19 has impacted ESS, and the concessions government has made to the rules governing the schemes.
Brief overview: Tax advantaged schemes
ESS are a great way for companies to reward and incentivise employees. One of the most popular (and well known) ESS is that run by the John Lewis Partnership, where employees are known as 'partners' in recognition of the fact they have an ownership stake in the business.
Here are the most comment forms of ESS:
Share option schemes. Employees are given the option to purchase shares in the business for which they work, at a price set at the time the option is granted. Even if the share price increases after that date, the employee has the right to buy at the price originally agreed
Share gifting schemes. Workers are gifted shares, that are normally held on trust for a period of time
Share purchase schemes. Shares are offered for sale to employees, usually at a favourable price
Why set up a scheme?
There are a number of very good reasons why you might consider setting up an ESS as part of your overall benefits package:
According to research, ESS have a positive effect on company performance overall, as well as productivity per worker
Employees who own shares feel more connected to the business, their job satisfaction improves, and they become focussed on the company's success as an objective
Employees feel more loyal, and this improves retention and morale
ESS can help transform company culture, creating an atmosphere of shared enterprise and trust
Workers develop a longer-term view on company performance and shift their perspective to a holistic one involving the whole company team. Absenteeism can also decrease
ESS are a popular and attractive addition to a benefits package when recruiting
ESS are a tax efficient way to reward employees
Different types of employee share ownership schemes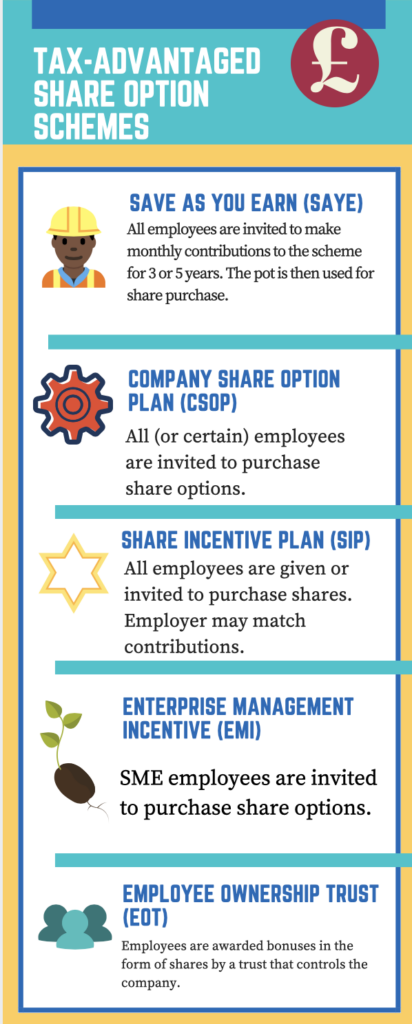 Some statistics on schemes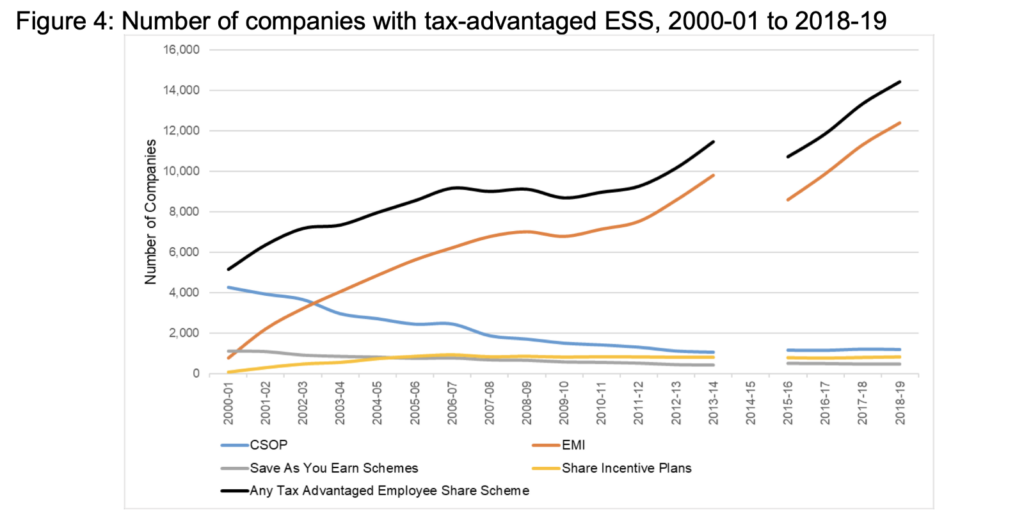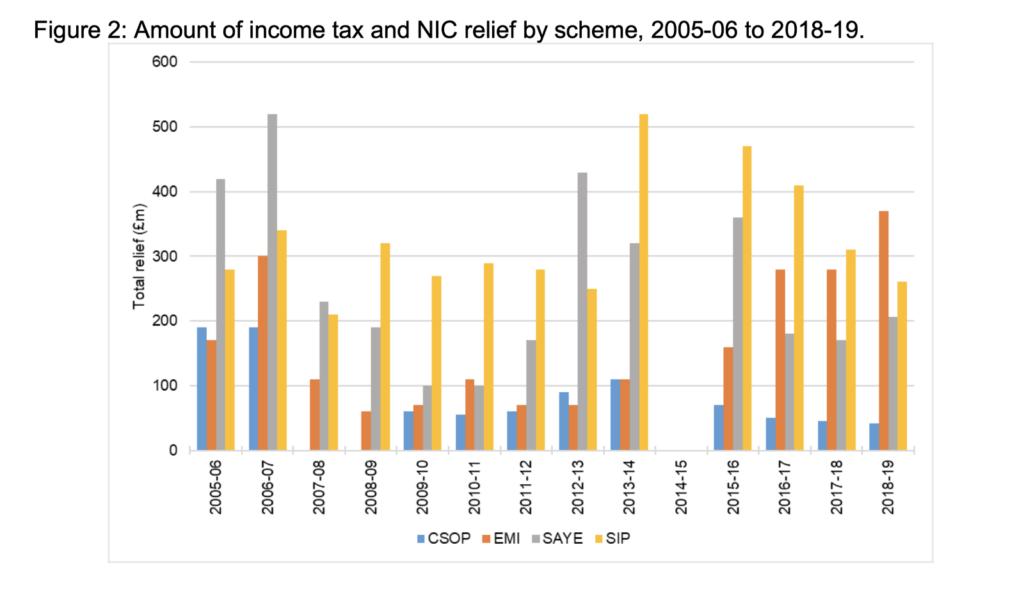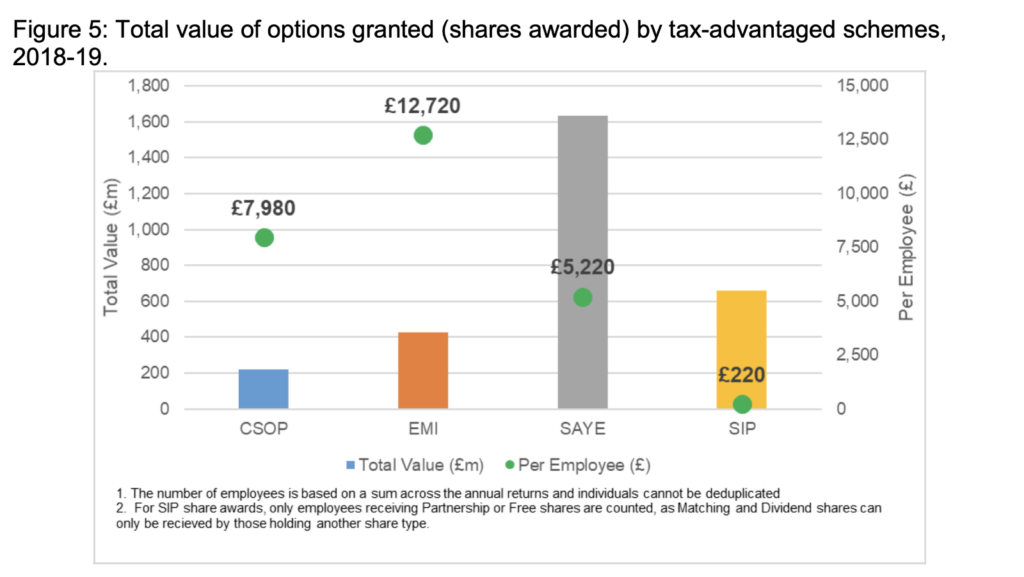 What are the consequences of setting up an ESS for the company?
This largely depends on the nature of your business. If you're a not-for-profit, the benefits of an ESS will be more intangible than financial, since employees will feel they have a valuable stake in the success of the organisation and a say in the way it is run, thus improving morale and retention.
If you're an SME, setting up an ESS can be a powerful way to ensure the success of the business, particularly if you're a start-up. Employees that own shares are highly motivated to work hard to ensure the company succeeds, and this can be a valuable incentive in high-growth businesses where long hours are common.
Employees who own shares will not be entitled to contribute to the management of the business, and as we have seen in our previous piece on share voting rights, shares held by employees under an ESS often do not come with voting rights attached. However, if you are thinking about setting up an ESS, it's a good idea to think about the ways in which share owning workers can communicate regularly with management on key issues.
What are the benefits for employees?
ESS are a tax effective way to reward employees, and form part of the remuneration package. As shares increase in value, workers benefit from that uplift and they may also receive dividends. If you have given away shares, or offered shares at a discount, or even match-purchased shares bought by your employees, then those financial benefits can be considerable.
Employees also receive tax breaks under ESS schemes.
Are there any disadvantages to an ESS?
As we all know, share prices can go up as well as down, and this unpredictability may cause difficulties for staff who own ESS shares when the economy takes a downturn. ESS are also slightly more complex to set up and administer than other incentive schemes, so can be more expensive. However, given that most ESS offer employees shares on very favourable financial terms (gifting, discounts, share-matching), the worst-case scenario for employees is likely to be that they don't suffer any loss.
Access legal support from just £125 per hour
If you'd like to know more about employee share schemes, contact our team of expert corporate lawyers.
Comparing the different schemes
Save As You Earn (SAYE)
Advantages:
Employees like them, and they attract those who are prepared to make a financial commitment to the business
During the savings period, the investment is risk-free
Provided certain conditions are met, no PAYE or NICs are payable when the option to purchase shares is exercised
The share price at the time the option is exercised can be up to 20% less than market value of the shares

Disadvantages:
Most or all employees have to be invited to join
Set up costs, and ongoing administration costs
Savings are made from pay after tax has been deducted (unlike the SIP)
Some employees may not want to participate
Certain unfavourable features for accounting purposes

Note the impact of COVID-19 on the above rules summarised below
Company Share Option Plans (CSOPs)
Advantages:
Not all employees have to participate
No money changes hands until the option is exercised
Employees will benefit from any increase in the value of the shares at the time the option is exercised, plus income tax breaks on the value of the increase, as well as corporation tax deductions for the company
You can tie exercise of the option to achievement of performance targets by the employee provided these are objective and fairly administered
A tried-and-tested option with which workers are familiar

Disadvantages:
An employee can hold options up to a maximum value of £30,000
Options cannot be granted with an exercise price less than market value at grant
Employees must exercise the options at least three years after they are given (except in special circumstances like redundancy)
Certain tax restrictions apply

Note the impact of COVID-19 on the above rules summarised below
Share Incentive Plans (SIPs)
Advantages:
A flexible scheme, in terms of how many shares to award and when
Certain ceilings apply each year: Each employee can be allowed to buy £1,800 (market value) The employer can give each employee £7,200 (that is, £3,600 worth of free shares and £3,600 worth of matching shares)
Can incorporate the award of bonus shares for good performance
Employers can give out matching shares up to a ratio of two for one, depending on how big an incentive they wish to provide
Purchase price is deducted at source from the worker's pay and is free from income tax and national insurance
Gains on shares are exempt from capital gains tax

Disadvantages:
Can affect employees' benefits entitlements
Is sometimes seen as too complex and costly to administer
Maximum annual expenditure of £1,800 (under SAYE this is £6,000)
Has to be offered to (almost) all employees
Riskier to the employees as they own the shares (rather than an option) so they are exposed to any fall in market value (however this may be outweighed by the savings in tax/NI and any match-funding available)
Complexity in the rules and potential clawbacks in certain circumstances

Note the impact of COVID-19 on the above rules summarised below
Enterprise Management Incentive plans (EMIs)
Advantages:
You don't have to offer to all employees
No minimum holding period
Exercise price may be less than market value (although income tax will be payable on the difference)
There are certain income tax reliefs and entrepreneurs' reliefs available
No financial obligation on employees
You can tie exercise to performance targets (similar to CSOP but a little more flexible)
There is more flexibility in designing the options than for CSOPs
Flexibility in design (each option can be a stand-alone agreement)
Employees can hold EMI and CSOP options up to certain limits

Disadvantages:
EMIs only apply to certain types of companies carrying out 'qualifying trades' (see our FAQs on EMI schemes here).
You may not be able to grant to part-timers
Limits on the number of options outstanding to each employee, and no more than £3,000,000 of company shares subject to an EMI at any time

Note the impact of COVID-19 on the above rules summarised below
Employee Ownership Trusts (EOTs)
Advantages:
When employees sell EOT shares, no CGT is payable, without limit
Employees may receive a tax-free bonus of up to £3,600 each year
Because employees are owners (via the trust), they can be given the power to vote on certain decisions relating to key matters affecting the company
The workers own the company, thus providing a measure of protection, particularly against sale to a third-party
An EOT is a good alternative to a management buy-out, since the management team does not have to fund the purchase of the company as individuals

Disadvantages:
For a two-year period after the sale to the EOT, certain conditions must be met, and breach of these can render the original sale liable to CGT
The EOT has to be funded via the company, that may struggle to service additional debt
The company will still require a competent management team, as the employees who own shares via the EOT won't be running the business
No corporation tax deduction for the contribution to the EOT
Subsequent contributions to an EOT may be viewed as a dividend payable to the EOT so subject to tax
Non-tax-advantaged schemes
As well as the schemes discussed above, all of which provide some benefits in terms of tax treatment, it's also possible to set up share ownership schemes for employees that, while they don't offer tax incentives, can be advantageous to employees. These non-tax-advantaged schemes have the additional benefit of being more flexible than ESS (higher or no limits on how many shares can be owned, and the company doesn't have to qualify to set one up). Here are some examples of the most common non-tax-advantaged schemes:
Long term incentive plans/performance share plans
These plans are generally set up to award shares to senior executives at nil or nominal cost. They can be tied to performance conditions and be structured so that the director receives restricted or forfeitable shares. Restrictions apply on the types of shares issued, and the tax treatment depends on the nature of the award. Here are some ways in which you can structure a non-tax-advantaged plan
Sell or give away ordinary and preferred shares
You can make awards of ordinary or preferred shares to employees, creating a special class of employee shares
Put in place growth share and hurdle share arrangements
These schemes work well for early-stage and growing businesses. Employees only benefit if the company grows beyond a certain level
Give share options and restricted stock units (RSUs)
These arrangements don't require HMRC clearance or company valuation, and the paperwork can be more straightforward
Deferred bonus/share matching plans
These are normally operated by listed companies, and involve an executive deferring his or her bonus into shares held in a trust. Matching shares or free options may then be granted if performance conditions are met.
The impact of Covid-19 on ESS
Because many employees have been furloughed as a result of COVID-19 or are taking unpaid leave, HMRC have made some adjustments to the rules that relate to the different types of scheme.
For more information see: The importance of reviewing your employee share scheme.
Save As You Earn (SAYE)
An employee who has an option to purchase shares under SAYE can choose to carry on saving, take a saving holiday of 12 months or more, or let their option lapse and take out the savings they've already made. If the employee is taking unpaid leave, they can make payments out of their own funds, but should resume making contributions from their salary as soon as possible.
Where contributions have been missed, the maturity date of the scheme will be extended by the number of months missed.
In addition, where an employee has received payments under the Coronavirus Job Retention Scheme (CJRS), these can be treated as salary so that SAYE payments can be deducted from them as they would be from normal salary.
Company Share Option Plans (CSOP)
Where full-timers have been granted CSOP options and are then furloughed, these will remain qualifying options under the plan on the basis that the6 were full time employees when the grant was made.
Share Incentive Plans (SIP)
If your employees feel that they can't make scheduled contributions to acquire shares under a SIP, they are entitled to stop, but they won't be able to make up any payments they've missed. You may want to remind staff of the consequences of any break in contributions under the scheme rules.
As with SAYE, if employees receive CJRS payments, these can be treated as salary and SIP contributions deducted from them.
Enterprise Management Incentives (EMI)
Under the EMI legislation, employees can only receive EMI options and therefore the tax advantages associated with them if they work for at least 25 hours per week (or, if less than that, 75% of their working time). They must satisfy this requirement while they hold the EMI option, or they risk losing the beneficial tax treatment when the 'disqualifying event' (i.e. the drop in working hours) occurs.
As a consequence of COVID-19, many employees risked losing their tax benefits as they were furloughed or otherwise working reduced hours. However, the EMI legislation has now been amended so that this won't constitute a disqualifying event if the reduction in hours has been brought about by COVID-19. These new rules will last until April 2020, although this may be extended if needed.
Filing extensions
If you are having difficulties registering new schemes or filing ERS returns because of COVID-19, HMRC has said they will consider this a reasonable excuse for late filing provided you can show how you have been impacted.