Our popular Meet the Client series reveals the inside story on the companies we support with legal services. We checked in with Kay Gowrinath about his growing design and production company Xquisite Productions, who create bespoke experiences for leading brands.
Name and job title
Kay Gowrinath, Director and Founder
What is it your company does?
Xquisite Productions is an award-winning full-service design and production company that works with global marketing agencies and brands to design, produce and deliver high-quality experiences.
Who do you work with?
Primarily creative agencies, marketing agencies, design agencies and brands. Our client base is diverse and ranges from Amplify, i2i, BBH, Monster Energy, EA Games, Coca Cola and Deliveroo.
How long have you been in business and how has your business grown?
We have actually been in business for 18 years! Most of our growth has been over the last eight years, since we delved into the world of experiential production. Our creative flair and high-end productions have been incredibly well-received by the industry.
We've devised everything from kids' play areas for an ice lolly launch to placing a lorry on the roof of a country cottage for Tesco's Christmas Campaign. Experiential production offers so much more for brands. It gives the consumer a personal experience, a lasting memory and ultimately delivers impact far more than conventional advertising offers. The ability to interact and offer sensory engagement is always a challenge which we relish.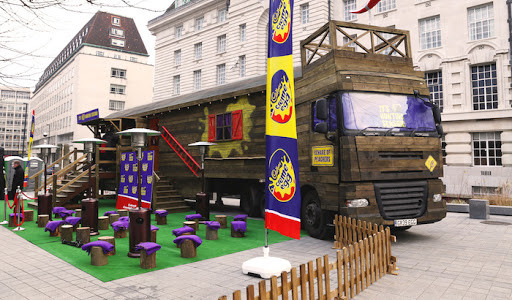 What inspired you to start your business?
The diversity of the projects and challenges each one brings. Every day is completely different from the next and seeing the end result with consumer reactions makes it very worthwhile.
What have been the biggest recent challenges you have faced and how did you overcome them?
Our biggest recent challenge has been upscaling the business to our new 35,000 square foot site in Surrey amid the backdrop of Covid-19, which remains ongoing. While our upscaling has been largely successful, the whole events and hospitality industry has been severely impacted. Being able to offer full services in-house that range from conceptual designs through to production, campaign management and even storage and disposal, has really helped get us through this period.
What are your hopes/goals for the next 1-3 years?
We are keen to expand our international campaigns and are considering opening another office and production site overseas.
What has it been like to work with Harper James?
Very professional and efficient. I have found their prompt engagement refreshing, without neglecting the detail. To have direct access to senior partners offers us a wealth of knowledge at a fraction of the cost. We certainly are glad to have them on the team.
How has working with Harper James benefited your business?
The ability to have legal support across all areas of the business allows us to have the security of a full-time general counsel without the cost of employing one. This model works extremely well for us as the requirement for legal support can vary from quarter to quarter. The Enterprise Plan meets our needs and when demand becomes greater, the value for money we get makes total sense. We are confident and enabled with Harper James legal support.